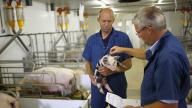 Technical expertise
Zootechnical and nutritional expertise
Our Provimi engineers and nutritional researchers are specialists in their specific field.
Their in-depth knowledge of nutrition and breeding techniques combined with the research capabilities of the Cargill group enable them to offer you a range of high-performing, innovative nutritional programmes tailored to your needs.

Our highly experienced teams will accompany you day in day out to provide you with high-quality technical support
Simulations and performance monitoring with the help of the latest generation of software, farm auditing to identify potential areas of improvement, training in how to use the relevant tools, support in implementing trials and new programmes.
Either remotely or in person, we adapt to your needs so that you can benefit from Provimi's entire wealth of expertise.

Our specialist team formulates feed products that are tailored to the growth stages and performance objectives of your animals
In accordance with the Provimi matrix, which comprises 15,000 raw materials and over 2,500 nutrients.
Our formulators update the matrix descriptors and optimise your formulae to maximise your technical and economic performance. The descriptors can now be updated completely autonomously via AUTOMAX.
Our team can also assist you with your inspection plans, specification monitoring, and ensuring regulatory monitoring.
Technical and commercial training
In France, Provimi is registered as a Qualiopi-certified training body. That is why we regularly host professional training sessions on nutrition, formulation, farm management, market and sector insights, trade negotiation, telesales and more.
You can choose from a wide range of Provimi training sessions delivered by our expert teams, which will enable you to enhance your team's skills and drive your business forward.