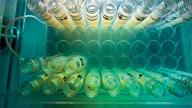 Lab and NIRS analyses

A complete catalogue of analytical solutions designed specifically for animal production.
Our specialist internal laboratory is equipped with NIR, and analyses raw materials as well as finished products in relation to animal nutrition (nutritional values, minerals, fermentation profiles, and so on).
Almost 50% of the activity in our Provilab laboratory is focused on forage, with around 14,000 samples analysed per year. We also conduct around 900 tests on mycotoxins each year.
Our expertise in NIR: The right nutriments for optimal formulation
With almost 25 years of experience and over 30 experts working with NIR technology on a daily basis, Provimi can advise you on your choice of equipment, help you to install it, and provide calibrations and support in order for you to get started.

You can also:
Analyse raw materials with precision and identify any variations in order to optimise your feed formulations
Monitor your output by comparing the values of the feed produced with the theoretical values of the formulation;
Analyse and utilise your forage in order to obtain the most high-performing ration;
Manage your NIR analysis data automatically and with ease
Benefit from state-of-the-art; parameters, targeted updates and the latest findings published by Provimi-Cargill's NIR R&D team. 
A bespoke service that is tailored to your needs.
We analyse over 2 million samples of 200 different ingredients from around the world each year with the help of our calibrations.
Our dedicated Provimi online portal
We provide you with access to our online portal MonProvilab to view and download your analysis reports. In just one click, you'll find your entire archive of requests.