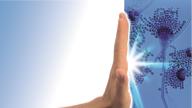 A holistic strategy for combating mycotoxins
Increasing numbers of farms are faced with instances of mycotoxin contamination, which leads to reduced feed efficiency, lower levels of production and reproductive issues.
We have developed a comprehensive strategy for combating the risk of mycotoxins based around three key areas:
Anticipating the risks in order to optimise your inspection plans
Using NotoxTM Online, which provides over 150,000 analyses per year, to quantify the risk associated with mycotoxins.
The tool will help you to identify the raw materials that are at risk so that you can adjust your inspection plan.
Measure the level of contamination
Evaluate the level of mycotoxin contamination in your raw materials over the course of 10 days with the help of our Provilab Laboratory, which offers a rapid test strip analysis service.
Provilab also allows you to conduct a broad spectrum analysis, which will help you to quantify over 50 mycotoxins and metabolites on different types of forage, raw materials, feed products and complete rations.
Combat mycotoxins effectively
Our nutritional experts will advise you on how to implement tailored solutions that are incorporated into feeds such as Notox™ Ultimate Pro or used as a top dressing product such as Farm Pack Ultimate. 
Our products are based on a combination of complementary technologies that enable a broad spectrum approach proven by numerous in vitro and in vivo tests.
Our solutions for combating mycotoxins